Raspberry Ketone Drops
Raspberry Ketone Drops with Rapid Release Fat-Burning Raspbery Ultra Drops Formula Works 3 Times Faster Than Supplements and is Our Pure 100% Natural Raspberry Ketones Liquid Diet Plan - Premium Ingredients Insure Your Success - Acts As An Appetite Suppressant - Each 2 oz Bottle Contains 60 Servings and a Full 30 Day Supply
HAVE A HARD TIME SWALLOWING BIG PILLS? With this Proprietary Fast-Absorbing Liquid Formula You Simply Use the Included Dropper to Measure the Daily Dose, then Squeeze Out Under Your Tongue and Start Shedding the Pounds!
Get Fast Weight Loss Results While Burning Unwanted Fat from Hard to Lose Areas like Your Abdominal and Lower Back with these Specially-Formulated Raspberry Ketones Liquid Drops that Absorb Three (3) Times Faster than pills.
If You Struggle with Carbs and Sugar Cravings this Raspberry Ketones Liquid Will Help to Curb Your Appetite Naturally Without Giving You the Jitters that are Common with Other Weight Loss Products.
Whether You are a Man or Woman this Raspberry Ketone Will Boost Your Metabolism Forcing Your Body to Burn Unsightly Fat Without Exercising, Even Burning Your Fat Away Automatically While at Your Job, Sleeping, or Just Hanging Out.
YOU CAN TRUST THIS 100% NATURAL FORMULA Manufactured in the USA Under Strict GMP Manufacturing Guidelines to Contain Only Pure Ingredients Knowing that nuYou Labs Raspberry Ketones Liquid Will Provide You with the Benefits Recommended by Dr. Oz .
Order Now on Amazon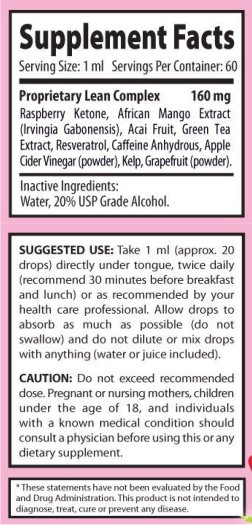 Proven Effective for Shedding Unsightly Fat and Rapid Weight Loss without Dieting
nuYou Lab's special blend of ingredients in our Raspberry Ketone Drops provide an easy and effective way for you to rapidly burn off fat, trim inches and shed those unwanted pounds. No Big Pills to swallow. Raspberry Ketone Drops are squeezed under your tongue twice a day and are proven to be absorbed 3 times faster than capsules.
Common Benefits When Using nuYou Labs Raspberry Ketones Liquid
No Dieting or Exercise Required
No Large Pills or Capsules to Swallow
Suppresses Your Appetite - No Feeling Hungry
No Worrying About What You Eat
Increases Your Energy Levels
Works Equally Well for Women or Men
nuYou's Raspberry Ketone Drops are Specially Designed to Deliver You Proven Fat Burning Results
Watch out for products that are made with just Raspberry Ketones. What makes nuYou's proprietary formulation work like a fat burning furnace is the right combination of African Mango, Green Tea Extract, Acai Fruit, Resveratrol,and other ingredients that force unwanted fat to melt away.
nuYou's Raspberry Ketone Liquid is Fast - Effective - Safe and All Natural with No Side-Effects
nuYou Labs Raspberry Ketone Liquid is manufactured to our stringent standards of excellence in the USA under strict FDA guidelines established as GMP (Good Manufacturing Practices) and can be trusted to provide you maximum effectiveness and health safety.
Order Now on Amazon
Testimonials

I couldn't believe how quickly I started feeling less hungry. I drive right past the QuickTrip because I don't feel the urge to snack and I don't find myself eating chips and soda right before bed either...
Betty Davis
nuYou Best Sellers
Get the results you're looking for! Choose one of our Best Sellers from the products below: